RK-007i MIDI Commander - Buy One!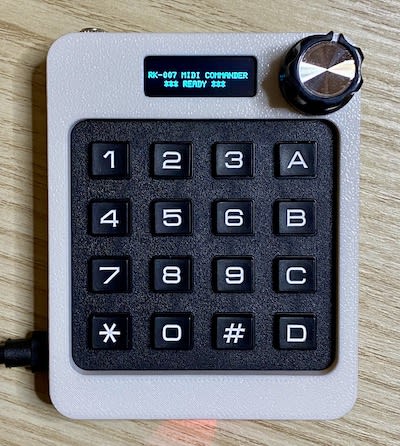 Get your own Improved RK-007!
---
Assembled RK-007i - $75
Includes TRS MIDI Cable
Free USPS First Class Shipping for Continental US
International orders will be updated with discounted shipping costs
---
This is an Arduino Pro Micro version of the device. I beefed up the 3D-printed case from 1mm->3mm wall thickness.
TRS MIDI Cable is included with your purchase
Items of note
"TRS" stands for Tip, Ring, Sleeve. When shopping for a TRS->MIDI 5-DIN cable, you are looking for a "Type A" version. Type A has the following pinout:
Tip -> DIN Pin 5 (Data Reference) - TXD from Arduino
Ring -> DIN Pin 4 (Voltage Reference) - VCC from Arduino
Sleeve -> DIN Pin 2 (Shield) - GND from Arduino
Need help?
If you have any other questions about the contstruction or operation of the MIDI Commander, drop a line in the commments. Thanks for reading!